About
Truffle Delight is a resident of Pudgyville,a place where ponies can be fat and happy.
Early Life
Truffle Delight wasn't always into girly clothing. He used to wear boy clothing as one would expect. He was also skinnier too. However, his love of chocolate and lack of boy clothing in his size led him to blossom in size and wear girls clothing.
Appearance
Truffle Delight is a fat dark brown pony with black hair and green eyes.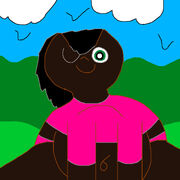 Personality
Truffle Delight is rather girly. Not only does he wear girls clothing for its bright colors but also their revealing nature. He'll often blush and giggle when getting a compliment. When his clothing is torn, he gets unhappy. He sometimes refers to himself as a "cutie with a booty".
Family
Truffle Delight lives with his sister Godiva and his parents Mr and Mrs. Cocoa. He also has a cousin named Caramel Treat.
Relationships
Truffle Delight is currently boyfriend to Mocha Cream, whom loves him for his size and girly nature.
Ad blocker interference detected!
Wikia is a free-to-use site that makes money from advertising. We have a modified experience for viewers using ad blockers

Wikia is not accessible if you've made further modifications. Remove the custom ad blocker rule(s) and the page will load as expected.