About
Stephanie is a member of Pudgyville, a place where ponies can be fat and happy.
Early Life
Stephanie was a good friend to Stella and Mary. As a result, she became a member of The Calorie Stealers by default. She was responsible for building the lair, even if her building skills were sub-par. Regardless, the lair was built wand was used throughout their group's run.
Appearance
Stephanie is yellow with dark blue hair and red eyes.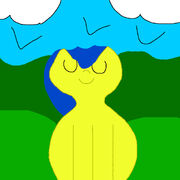 Family
Stephanie has no known family members.
Relationships
Stephanie is not in any romance relationships but is best friends with Stella and Mary.