About
Giggle Jiggle is a member of Pudgyville, a place where ponies can be fat and happy.
Early Life
Details coming soon.
Appearance
Giggle Jiggle is a fat orange pony with light orange hair and pale orange eyes.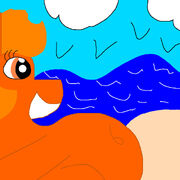 Personality
Giggle Jiggle is quite playful. You'll see her jump on another pony, then try to make them laugh.
Family
Giggle Jiggle is a membe rof the Jiggle Family with two parents, two sisters, a brother and two cousins.
Relationships
Giggle Jiggle is not involved in any love relationships.