About
Cactus Cathy is a pony from Pudgyville, a place where ponies can be fat and happy.
Early Life
Cactus Cathy got into her love of cacti from a book she found in the Death Valley Gift Shop called Cacti and the World They Live In and after reading the facts, she became fascinated with them.
Appearance
Cactus cathy is a fat bright green pony with fuchsia hair and light green eyes.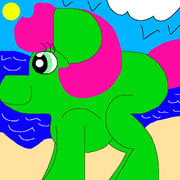 Personality
Cactus Cathy as her name suggests loves cacti and she often carries a tiny one with her. She likes to talk a lot about cacti with others too.
Family
Cactus Cathy has a sister named Saguaro Sweetie and a brother named Needle Nail.
Relationships
Cactus Cathy has no love relationships, mostly due to her hobby.  
Ad blocker interference detected!
Wikia is a free-to-use site that makes money from advertising. We have a modified experience for viewers using ad blockers

Wikia is not accessible if you've made further modifications. Remove the custom ad blocker rule(s) and the page will load as expected.